Short Version:
Route A would be preferable as (i) it connects Oughterard and Moycullen more directly to Galway and (ii) it avoids running the greenway alongside the N59 at any point.
Filling out the Questionnaire is quick and easy!
Filling out the form takes less than 5 minutes. There are 8 questions. If you are filling out the Public Consultation 2 – Route Corridor Options on-line form then please feel free to use the text below (copy-paste or some variant thereof) for Section 8.
"8. If you have specific information relating to the proposed Route Corridor Options, or if you would like to make any other comments about the proposed scheme, please let us know."
Suggested text for Section 8:
Copy from here…
"Route Options A and F are in line with the 6 primary objectives set out in the consultation document. Route A would be preferable as (i) it connects Oughterard and Moycullen more directly to Galway and (ii) it avoids running the greenway alongside the N59 at any point.
Inclusion: Greenways are for people of all ages and all abilities. If it is not safe enough for a 5 year old to cycle on then it is not a greenway therefore the Galway to Oughterard greenway should not share or run directly alongside a national route such as the N59.
Local economies: Please also ensure that Moycullen and Oughterard have proper access to the greenway preferably access points at both ends of each village. This is important for the local economies of these villages. It is also important that the greenway should offer a viable safe and direct commuter route from Moycullen and Oughterard to Galway.
Biodiversity: Please consider biodiversity and pollinator corridors when developing the greenway."
……to here
Here is a sample of the form filled out:
Background (longer version)
The Connemara Greenway Alliance (CGA) has been actively campaigning for the completion of a circa 76km dedicated off-road cycling and walking connection across the world-renowned Connemara landscape since 2012. In the first few years, the role of the CGA was to promote awareness of and to encourage support for a Greenway. Thereafter it was to give voice to what became an overwhelming pro-Greenway public opinion towards having in place this vital piece of infrastructure and to prompt supportive action from our local and national government representatives. Ten years on, multiple promises, funding announcements and requests to "hold our tongue" have made it an oftentimes frustrating, more times disappointing process. So now, after many false starts the second round of public consultation has opened and a route for the greenway is to be selected. The question as to the best route is to be answered by the public, and that is the population at large, those who presently live, work, study and play along the route, and those who will do so in the future.
The CGA gives due praise to Galway City Council and Galway County Council, along with Transport Infrastructure Ireland and consultants AECOM for getting us to this stage. The list of potential routes are available here: https://galwaytooughterardgreenway.ie/second-public-consultation/
As an organisation the CGA has reviewed all seven options and are asking members of the public to submit their views before the deadline of July 15th at the above web address.
Our starting point has always been to adhere to the universally subscribed definition of a greenway. According to UNESCO a greenway is an off-road dedicated walking and cycling route. The Irish government goes further and defines it as "a recreational or pedestrian corridor for non-motorised journeys, developed in an integrated manner which enhances both the environment and quality of life of the surrounding area". We see the potential of greenways as much greater. Our vision is that the Connemara Greenway offers a viable alternative to car transport for the 70,000+ people that live within the study area. We see it as contributing to the physical and mental well-being of the people of Galway and in helping to forge stronger community ties for places along the route. We also recognise the highly 'instragrammable' nature of the landscape and consider this greenway adding lustre to an existing jewel in the crown of the West's tourism offerings.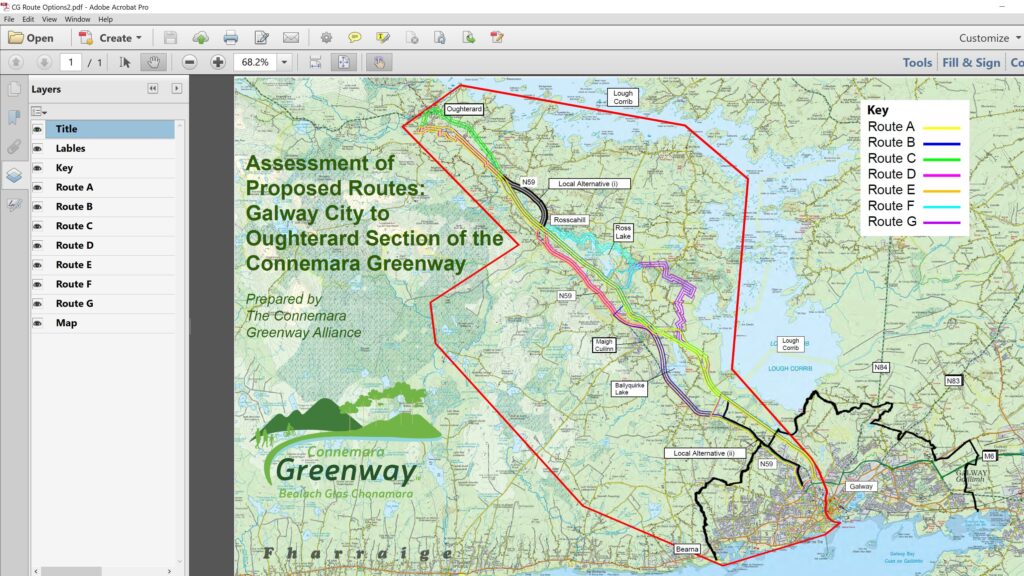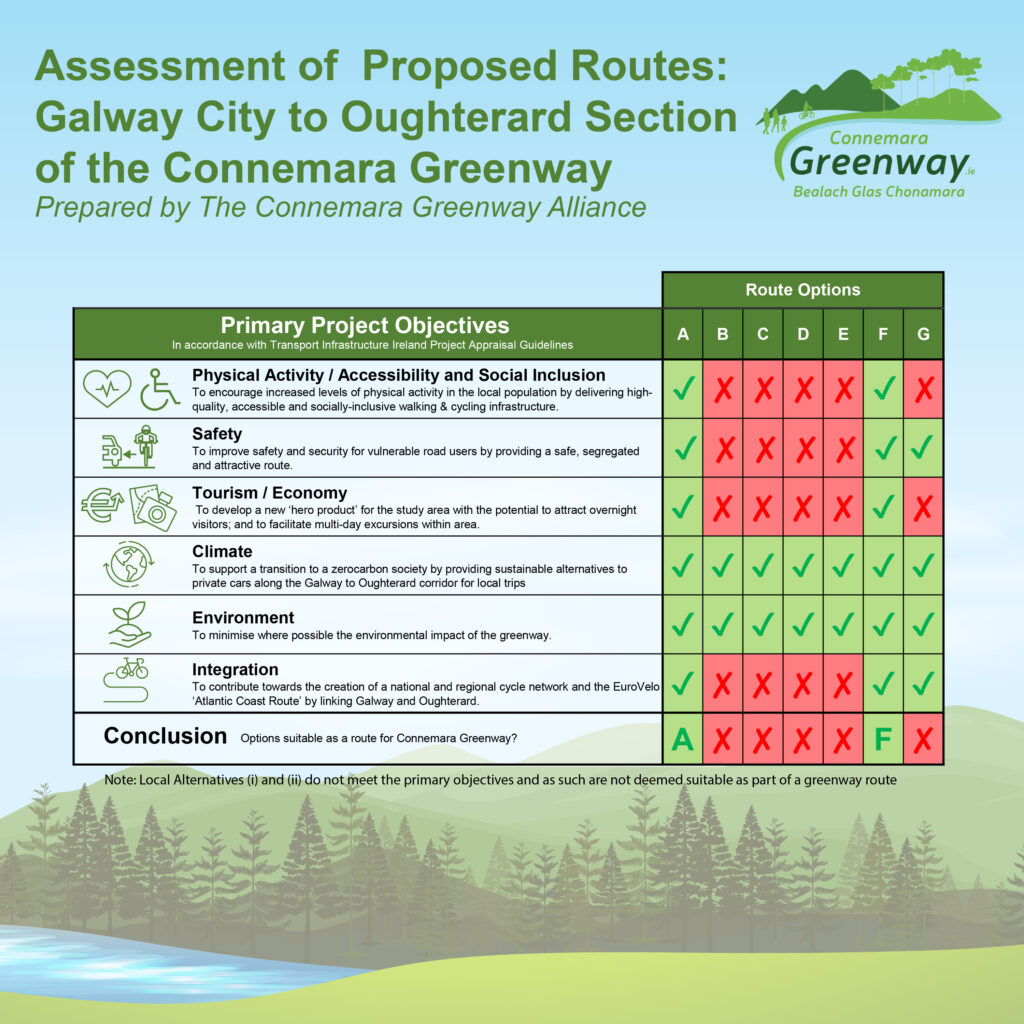 In our choice of the best possible route we have also considered the following of primary importance:
Greenways do not share or run directly alongside public roads. Greenways are for all ages and abilities; if it is not safe enough for a five year old to cycle on, it is not a greenway.
Greenways should offer an opportunity for the greatest amount of use. Therefore accessibility and integration are key. While there is no doubting the untapped demand for tourism, the Greenway can help Galway's traffic problem and act as a valuable contribution in helping Ireland reach its climate targets. The Connemara Greenway must provide easy and safe access to the villages of Moycullen and Oughterard and as direct a route as is possible to Galway city. Though circuitous routes might be fine for holiday makers, nevertheless for this greenway to achieve its potential, it must connect the main populations centres in the most direct way.
Finally, we need to ensure that in building this greenway, that at all stages of development, biodiversity must be protected and enhanced. Greenways offer huge potential as biodiversity habitats and wildlife corridors. Careful consideration must be given to the ecology along the greenway route in line with guidelines published by the National Biodiversity Data Centre (https://pollinators.ie/wp-content/uploads/2019/10/Transport-Corridors_actions-to-help-pollinators-2019-WEB.pdf). The greenway itself must be climate resilient.
With the above in mind, and having campaigned for this vital piece of infrastructure for the past decade, we have created the attached graphic to help the public make their decision. We are completely independent, we are a collection of volunteers from a diversity of backgrounds and occupations, some of us are cycling enthusiasts, some of us are walking enthusiasts. We have been brought together by the dream of a safe, beautiful, dedicated walking and cycleway in Connemara, one that will be a gift to generations to come. It will bring with it obvious economic benefits (estimated at up to €17 million in the first year alone). But we recognise also that greater benefits lie in connecting people and places, helping them appreciate each other and their environment in new, more meaningful and imaginative ways.
Having got this far it is now crucial that an appropriate Greenway compliant route is selected as speedily as possible. We have waited long enough and have watched in frustration as many other parts of the country put in place greenways whilst Connemara was forgotten. So we urge you to join us in submitting these sentiments to those responsible for the delivery of this project and thereby giving us all the opportunity to stop and have a chat in the beautiful surrounds of our majestic landscape.